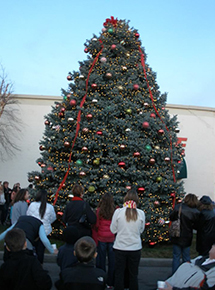 The Village Aglow Tree Lighting Ceremony
DATE:
November 18, 2016
Please note date change: This is the Friday before the parade.
LOCATION:
St. Clair at Kercheval
TIME:
5:30 p.m.
Tree is lit at 6 pm
DESCRIPTION:
Enjoy a true celebration of community at the lighting of the magnificent Village Christmas Tree. Tree Lighting takes place on Friday, Nov. 18.
The evening includes entertainment and refreshments. The Tree, a large evergreen located at the corner of Kercheval and St. Clair Avenues, will be lit at 6 p.m. by Mayor Dale Scrace.
Village Tree Decorating will be sponsored by the Grosse Pointe Foundation.
Currently, the event will include the following: Warming Fires and Smores made available by the City Department of Parks and Recreation
Complimentary Coney Dogs made available by Mike Muir and the Harvard Grill
Complimentary Hot Chocolate made available by the Grosse Pointe Boat Club
Caroling by Grosse Pointe South Choir and the Pointe Singers